It's been a long time since I've blogged... my faithful reader
Milk
is complaning that I'm lazy everyday. Well, to satisfy my only reader, I shall dedicate this long entry to him. =)
I've been in Austria for about 6 months (excluding the 2 weeks that I've been home) and of cos there are ups and downs during these 6 months. To sum it all up, it was a good experience - experiencing the culture, weather (very fresh air and snow!), food (the stuff here are mostly fried), different cities (actually only been to 2), crazy colleagues (esp a very crazy Italian colleague), etc etc.
And of cos, there is
Milk
. What would I do without him? I think life will be quite unbearable if not for him. Well, he definitely tops my list of my "Most Irritating Friends" List (actually there is only 1 person on the list) as he loves to "shake" my fats when I'm not noticing, esp around my arms! It's really damn irritating!! Not to mention the amount of things I find under my pillows and in my comforters - PLATES, BOTTLES, - you name it, you got it.
But on the whole, I felt much happier when I was asked to move to Salzburg (where
Milk
was stationed for the past 3 months). Although work is more hectic (cos the whole operation team is there) but there was fun.. esp when we played "Shanghai Dai Di".. really fun! Gambling rules! Esp when u win your bosses' money hahaha..
Here's a glimpse of where we stayed.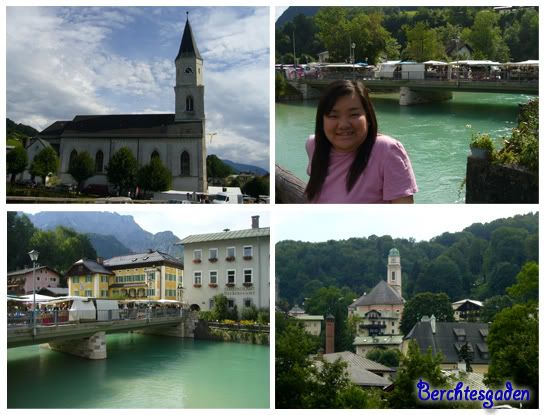 It's a small town in Germany called "Berchtesgaden". It's located near the border with Austria, some 30 km south of Salzburg and 180 km southeast of Munich. We stayed near the mountain where the "Eagle's Nest" (also known as Kehlsteinhaus) is located. The Eagle's Nest is actually the retreat where Hilter stayed. (nope, I didn't go there) There is also a deep glacial lake called "Königssee" which my irritating friend
Milk
promised to bring me but never did.
Well, everyday we have to drive about 30 mins into Austria, Salzburg to our office to start work. The journey is usually very serene as we are all busy napping, with only the driver (usually is
Milk
) concentrating on the roads.
After a hard day's work (and a taste of my boss's cooking and many rounds of Shanghai Dai Di), we finally can get to go back and rest.
It's a nice cosy room, equipped with a mini kitchenette, balcony and attached bathroom with tub. Not too bad until it became too hot to sleep! The summer here was a bit weird.. very cold, average 12 degrees everyday but then suddenly, became very hot! But on the whole, it was a nice stay. So make a guess - which is my bed? =)
Like I said, this entry is dedicated to my most irritating friend (note that I've said it 3 times - means I mean it haha) -
Milk
. Thanks for everything here in Austria (and back in Hong Kong and SG too). Without you, it's quite meaningless here actually. Although you do make me very angry at times, but what would I do without u?
We've survived thru this together, finally seeing the rainbow (double rainbow in fact!) at the end of the day. Let's sit down one day and reminisce about the wonderful days spent here in Austria, shall we?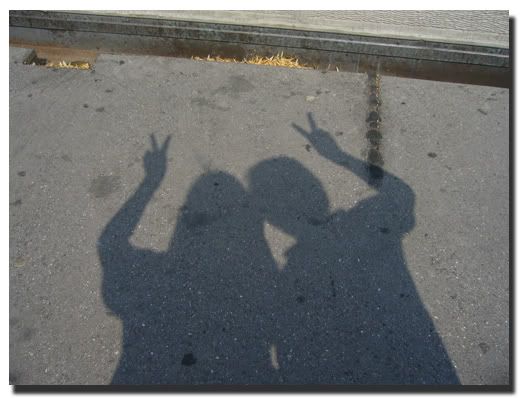 Next to come - my weekend trip in Europe.
Guess where? =)
Till then,
.:: Juan Juan ::.