Ok ok, this is a long awaited, overdue post yet again, sitting in my draft box for the longest time... here goes!
Last weekend in Austria, hence we decided to do some travelling! (Can you tell that I've been waiting for a long time for this to happen??)
So from the little town we were living in Germany, we packed our little getaway bags and set off on the little adventure. But before that, we got to send our beloved 洪爷 to Zürich Airport to take his flight back to SG. As usual, I was dozing off along the way (5 hours drive ah!). 洪爷 even commented that there was a lovely symphony of "the sound of music" from me and Milk from the backseat.
After sending 洪爷off, we decided to explore Zürich a bit. (of cos la! travel all the way here!). Afterall, it's the biggest city in Switzerland. So we grabbed the little tourist guidebook from the airport and chanced upon something very unique.
I've heard of this brand from a friend in SG (who by the way is very crazy abt this brand).
Freigtag
bags are made from used truck tarpaulins, seat belts, bicycle inner tubes, used airbags - promoting recycling. Hence not a
single
bag is identical - all unique on it's own. I think that is also why the price is also very unique. *wink* See the green bag? Yup I bought it! (but not for myself...damn!)
Moving on, we drove into the City Centre to see if there's anything to munch. So hungry! The standard of living is really high! 1 simple lunch (quiche and coke) set me back abt 15 swiss franc (about 18 SGD)! No wonder Zurich was named the city with the best quality of life in the world.
Perhaps it's because I've heard so much about Zürich that I had quite high expectations. Cheese fondue, Swiss Chocolates, Army knives.. but nothing really caught my eye ah. The streets in Europe were about the same - just the different architectures and all. Was intending to stay there for a night, but in the end, we decided to move on to another destination - Milan!
It was another 2.5 hours drive, with me dozing most of the way again and the weather was dreamy cos it was drizzling. Along the way, we passed through a long tunnel, with a magnificient view of the Alps! There were a few mountain tops still wearing its snowy cap on the tip - imagine the temperature up there! Very nice view indeed!
By the time we reached Milan, it's almost dinner time. Did i mention that the days are longer here during summer? The sun sets only at around 9pm and rises at 5am! And by dinner time, I meant 9pm! We met up with a friend (Yuxiang) who currently resides in Milan and she brought us to a chinese restaurant for a sumptuous dinner. You might think that it's a normal chinese meal.... BUT! I got the fits when my drink arrives. You see, I've been in this very ang mo country for so long that I crave for soya bean milk for ages (not to mention Seasons Ice Lemon Tea!) so I pounced on the first chance I get to order the yummy milky drink! And here it is my dear readers:
Hahah.. I got the shock of my life when it arrived! I swear that there weren't any indication of how large the drink was, so naturally I assumed that it comes in a glass. ALAS! The lovely waiter brought me 1 Litre! Milk and myself were laughing so loudly that the couple next to us tot we were going crazy. But I tell you, it was really damn hilarious! YES, I miss drinking soya bean milk but NO, i didn't finish the 1 Litre! Too much la!
The next day, we woke up to the sunlight streaming into our room, with Yuxiang saying "太阳晒屁股了"! She had the day off and hence wanted to bring us to town, shopping, etc. BUT, she had to get a haircut first (from her already very short hair). Well, that leaves me and Milk alone to tour town (our Italian colleauge went home to Torino already).
Milan, together with Paris, is one of the leading fashion capitals of the world. In another word: a paradise for shopping! We took the train to Centrale Station and a magnificient sight beholds me:
The Duomo, in Duomo Square, is Milan's main cathedral, a massive late Gothic church (started in 1386) in white marble, with hundreds of spires and thousands of statues on its exterior. Well, I missed the chance to climb up onto the roof, missed the great views between the Gothic spires cos I was distracted by another sight: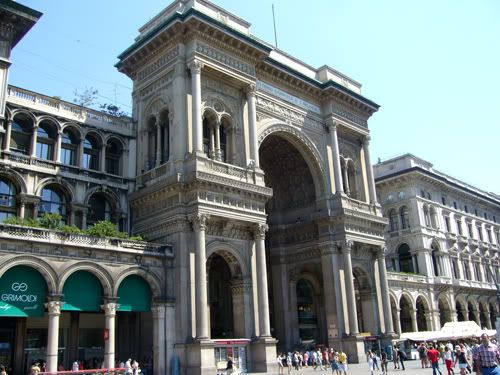 Galleria Vittorio Emanuele, the mother of all shopping malls: upscale shops in a splendid 19th- century palace of a mall. It's really grand! Let me show u:
From where I come from, nothing matches this honestly. And nothing beats having seen this with your own eyes. Photos captured from my lumix 9 does not do this place justice, but hey, no choice la, this must suffice! It's the next best thing I can do! hehehe...
Walking through the long passageway, I come to a clearing in the middle where there are four shops facing each other in a circle. Big brands with the brand name braced in gold against black background - really grand! Guess what, the famous "M" is one of the BIG brand of the four shops, taking a prime spot in this famous building!
Coming to Milan, what is a MUST? SHOPPING OF COURSE!! Without further ado, I practically hopped into the shops, one after another, with Milk on my trail, trying to catch up with me. Shops after shops, brands after brands.. and FINALLY, we bought something...
I bought the white wallet for the lucky man in my life and my lovely, generous, always-make-me-angry irritating friend Milk bought me the shiny gold coin purse for my xxth birthday! Simply love it my dear! My dear readers, it's really nice right? Comments pls!
Moving outside, I learned that I'm actually a very famous person in Italy! Don't believe me? Take a look:
They have me as an art statue! Gosh, I'm honored really. But I dun feel that great, parading my nude body in public la. But, for the sake of art, I shall just close one eye! Hahaha!
Night beckons yet again, so does our tummy. Yuxiang brought us to a very nice Italian restaurant in the town she lives in - Serengno. Lovely decor, rowdy kids and adults (due to a wedding held there with very very loud music, singing and dee jay's ranting in Italian which we dun comprehend) - all made up for with delicious food! YUMS!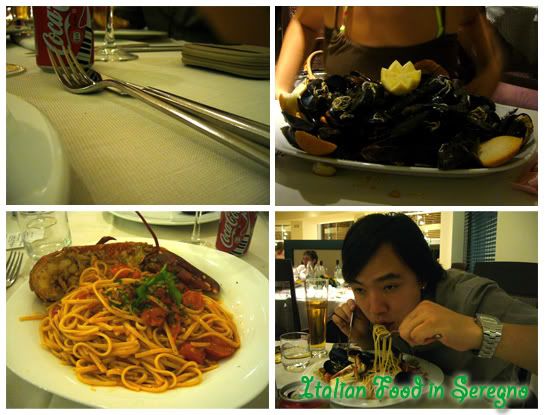 They had long utensils, complete with big servings of food! Yuxiang ordered a plate of mussels - I think there should be at least 50 of them, Milk ordered a seafood pasta cooked in white wine (look at his face - simply in haven!)and for yours truly, a tomato based pasta with a huge crayfish and crab claw. We were so engrossed with the food, that we forgot to chat! hahaha...
Half day in Zurich, 2 days in Milan - This is indeed a fruitful weekend! But dear readers, there's more to come, stay tuned for......VENICE!!
P.S: This has been a VERY LONG ENTRY indeed (I'm falling asleep already)...
.:: Juan Juan ::.